As the year draws to a close, most groups have some sort of celebration to consider.  While we are in the holiday spirit hopefully we will be more considerate and tolerant of others.  This is also a time to consider those that do have the blessings that many of us have.  In our area, one of the avenues open for us to help the less fortunate is the United States Marine Corps Toys for Tots campaign.
Bubba Barham along with Trackseekers R/C Car Club and Flowood R/C Racing Center held their 4th Annual Toys for Tots Invitational Race.  Each year that this event has been held it has been better attended than the year before.  This years event played to a packed house.  Eleven classes were run.  Yes, eleven classes.  With this many events being held, there was no room for delays or errors and none were noted.
It was an honor for me to be invited to attend this event.  It is always a pleasure to see racers that I have known for a long time.  It is also great to meet new racers and traveling racers that I have not met before.  At the drivers meeting, Bubba Barham greeted the crowd and gave the best speech about the importance of ROAR membership I have ever heard.  When he introduced me and gave me the opportunity to speak there was not much to say about ROAR that Bubba had not already said.  Of course, those of you that know me know that I can always find something to say.  As usual, when I attend a Toys for Tots event, I always bring a "race fee".
Riverside R/C Raceway in Petal Mississippi held their first Toys for Tots event this year.  Although Riverside is a new racing facility, they proved that they were up to the challenge.  They event was well attended, and the weather was perfect.  The successes that Riverside R/C Raceway have experienced in their first year of operation leaves no doubt about their future successes.
It is always an honor for me to receive an invitation to attend a special event.  Those that know me are aware that I do not crash a party, but when invited I make every effort to attend.   As usual for me, I brought a "race fee" to this special event.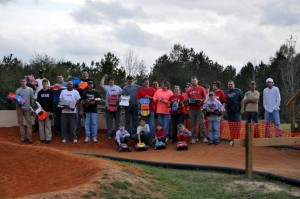 The "Elves that made this all possible
That's all for now.  Yours in racing.  Happy New Year!